Last Updated on May 26, 2022 by Admin
MSKH Seating Systems India Pvt. Ltd Campus Placement 2022 | Technician/Asst. to Technician | ITI Pass | May 2022 |
---
Company Name :- MSKH Seating Systems India Pvt. Ltd
MSKH Seating Systems India Pvt. Ltd Campus Placement 2022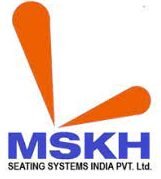 Mskh Seating Systems India Private Limited is a 13 years 1 month old Private Company incorporated on 09 Apr 2009. Its registered office is in Pune, Maharashtra, india. The Company's status is Active, and it has filed its Annual Returns and Financial Statements up to 31 Mar 2021 (FY 2020-2021). It's a company limited by shares having an authorized capital of Rs 9.00 cr and a paid-up capital of Rs 6.73 cr as per MCA.
Join Us
Whatsapp Group (ITI / Diploma)
Whatsapp Group (Engineering)
Whatsapp Group (10th/12th /Graduation)
Telegram Group
Facebook Group
Positions :- Technician/Asst. to Technician
Job Location :- Pune, Maharashtra
Salary :- 
Salary: CTC/Gross 

18541/- per month for 8 hr. Duty.

Salary in hand: Rs. 12090/- per month

By deducting PF, ESI, Canteen

Extra Remuneration for Overtime

Duty as per company rule.

Attendance Bonus : Extra Rs. 700/- per month

For 26 Day duty per month.Nature of Posting Contractual basis 

Posting but Rejoining will be available for deserved candidates.
Qualification :- ITI Pass (Any Trade) or +2 Pass (any stream)
Trades:- All Trade Pass Out
Age Limit :- 
Minimum Age- 18 Year

Maximum Age- 24 Year
MSKH Seating Systems India Pvt. Ltd Campus Placement 2022
 Campus Interview Details :-
Date :- 29 May 2022
Time :- 9:00 AM
Venue :- Gopabandhu  ITI – GITC sundariapada.Ganjam, Odisha
For More Details :- Click here
Note :- All the jobs information has been placed on our website for the convenience of our visitors.While All Efforts Have Been Made To Make The Information Available On This Website As Authentic As Possible. Please Take Any Decision Only After Confirming All The Information Stated In This Website Because All The Information Is Put On The Basis Of Internet Researches And This Blog Does Not Claim Any Information To Be False Or Correct. Therefore, Later The Owner Of This Website Will Not Be Responsible In Any Way.