Last Updated on June 24, 2023 by Admin
Kirloskar Oil Engines Recruitment 2023 | Trainee | Assembly Line Operator | Freshers | ITI Pass | June 2023 |
---
Company Name: – Kirloskar Oil Engines (KHADKI)
Kirloskar Oil Engines is a leading manufacturer of diesel engines and generator sets in India, with a history dating back over a century. As a part of the Kirloskar Group, the company is committed to providing quality products and services to customers across the globe. However, Kirloskar Oil Engines' focus on quality extends beyond its products and services.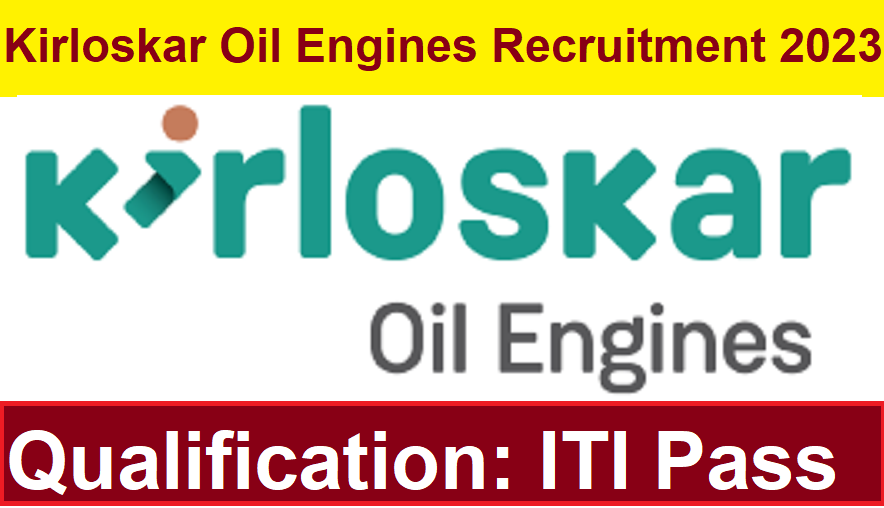 The company places great emphasis on employee development and creating a culture of growth and opportunity. For those looking for a challenging and rewarding career, Kirloskar Oil Engines provides a plethora of opportunities for professional development, advancement, we will explore the career growth opportunities available at Kirloskar Oil Engines and delve into the various programs and initiatives that make this company one of the best employers in India.
Join Us
Whatsapp Group (ITI / Diploma)
Whatsapp Group (Engineering)
Whatsapp Group (10th/12th /Graduation)
Telegram Group
Facebook Group
Positions:  Trainee
Qualification: ITI Pass
Trade: Welder, Fitter, Electriction, COPA, Diesel Macanic, Machanic
Experience: – Fresher's
Age Limit: Between 18 to 30 Years
Salary: Not Disclosed
Job Location: Nasik/Nashik, Pune( Khadki )
Selection Process: Written Exam & Interview
 Apply Link: Click here
Company Website: Click here 
Note: – All the jobs information has been placed on our website for the convenience of our visitors. While All Efforts Have Been Made To Make The Information Available On This Website As Authentic As Possible. Please Take Any Decision Only After Confirming All The Information Stated In This Website Because All The Information Is Put On The Basis Of Internet Researches And This Blog Does Not Claim Any Information To Be False Or Correct. Therefore, Later The Owner Of This Website Will Not Be Responsible In Any Way.